Workout Anywhere – Fire Fit
Friday's Fire Fit and Boot Camp lesson is here!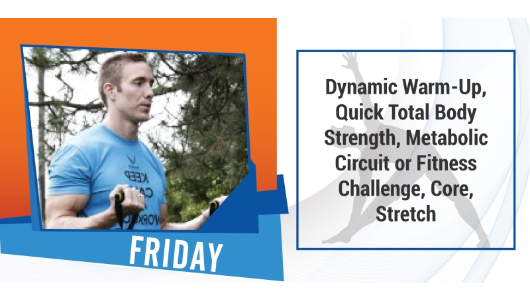 Fit Friday
Dynamic Warm-Up
1) Warm Up (5-10 min): http://workoutanywhere.net/rundlefit-dynamic-warm-up/
Metabolic Circuit
Then, 6 circuits for time (your time is your score)
1 Plate Push
12 Mt. Climbers
12 Archer Rows (6/side)
12 Wall Balls
12 Hand Release Push-Ups
1 Lap
Core
Four Core (4 min): Four Core #1 http://workoutanywhere.net/4-minute-total-core-outdoor-edition-3/
Recovery: Stretch & Foam Roll
Stretch & Cool Down (4 min): Use the official RundleFit Stretch infographic one to two times through ( http://workoutanywhere.net/the-best-6-stretches-for-anywhere/ ).
Final Thought
Great job this week Team!